Recruiting 2023: Peachtree Ridge at Norcross | Georgia Public Broadcasting (gpb.org)
The GHSA Region 7-7A championship will be on the line tonight as the undefeated Peachtree Ridge Lions (8-0, 4-0) play at the sixth-ranked Norcross Blue Devils (7-1, 4-0). A Lions win would give Peachtree Ridge just its second region title and its first since its 2008 state finalist season. Our GPB Sports Football Fridays in Georgia coverage starts at Norcross Stadium at 7:30 p.m. on GPB-TV Georgia Public Broadcasting.
The Blue Devils are still in the mix for the program's eighth all-time region crown and first since their 2020 state semifinals team but cannot win it tonight. Norcross will need to win tonight and then again next Friday night at North Gwinnett (5-3, 3-1). The Bulldogs are not completely out of the region race themselves but need multiple things to happen.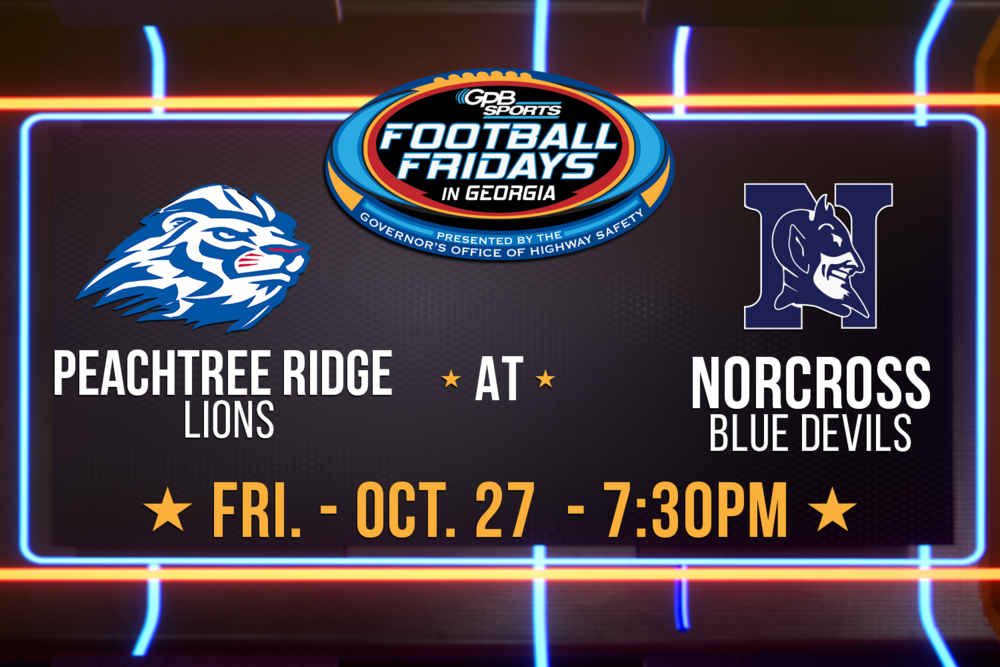 But it's the Lions who control their own destiny tonight. The Peachtree Ridge story is a little bit unusual. The Lions were the 2006 state co-champions in just the program's fourth season of existence. They were led by future Ohio State star, 2011 NFL first round draft pick, six-time Pro Bowler, and three-time All Pro defensive tackle Cameron Heyward now in his 13th season with the Pittsburgh Steelers.
That 14-14 tie with Roswell in 2006 helped lead the GHSA to change its rules and overtime was instituted for state championship games starting the next season.
In 2008, the Lions were back in the state finals led by another future NFL star linebacker Kevin Minter who would go on to play at LSU and nine seasons in the league. Peachtree Ridge advanced to the quarterfinals in 2009 but then made the playoffs in just seven of the next 13 seasons, winning just three playoff games in the next decade-plus.
But things have changed dramatically in Coach Matt Helmerich's second season with the program. After leaving Johns Creek as the Gladiators' all-time winningest coach and a 2021 state quarterfinal finish, Helmerich has the Lions off to an 8-0 start for the first time in the program's 21-year history here in his second season following a 6-5 record in year one. All the folks who asked him why he left Johns Creek, probably aren't asking that question much anymore.
However, Peachtree Ridge faces its toughest test of the season this evening. Led by the newly crowned winningest coach in Gwinnett County history Keith Maloof, the Blue Devils are 7-1 and have won six straight since their lone loss to now-No. 1 ranked and defending state champion Mill Creek.
Coach Maloof, who is in his 25th season at Norcross with a record of 200-86 is as seasoned as they come. He led the Blue Devils to state championships in 2012 and 2013 and seven of the program's eight all-time region titles have come under his watch. He comes from perhaps the "First Family" of Georgia coaches and dating back to his legendary Hall of Fame dad George, a Maloof has been a head coach in this state every year but one since 1958. That is a streak that is likely to continue a lot longer with Keith's son Tyler now the head coach at Lanier, a team Peachtree Ridge beat 44-36 in their second game of the season.
So, the plots and subplots are thick tonight as we enter our next-to-last weekend of the regular season. Hard to believe the playoffs start two weeks from now.
That's the game preview. Let's take a look at the top prospects to watch this evening.

Peachtree Ridge Prospects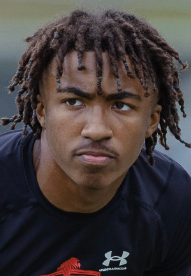 Caption
Dorian Barney, Peachtree Ridge
Credit: 247 Sports
Dorian Barney – 6-0, 170, Sophomore – 11 Offers including Tennessee, Georgia Tech, and Indiana – Highest Ranking: 247 Sports 4-Star and No. 5 CB in the country and No. 5 prospect in Georgia 2026. Highest rated prospect on the field this evening. Helmerich: "Got IT factor. Super skinny in spring and not sure how physical he'd be…told him recently 'thanks for proving me wrong'. He's popping people. Phenomenal in and out of his breaks." Stats: 19 TT, 2 TFL, 3 INT, 9 PBU.
Darius Wallace – 6-3, 215, Senior LB – Committed to Charlotte over 8 other offers including Western Kentucky and Bowling Green. Played TE and Basketball before Coach Helmerich arrived and was moved to defense. 6-10 wingspan. Stats: 41 TT, 9 TFL, 2 QBS, 3 INT.
Josh Brown – 6-0, 180, Senior SAF – Eight offers including Charlotte, Alabama State and Eastern Kentucky. Helmerich: "Heat seeking missile and Special Teams Player of the Year last year playing his first year in the program. If you're coming across the middle better find out where No. 2 is. Has one speed." Stats: 44 TT, 3 TFL, 2 INT.
LeStat Williams – 6-2, 280, Junior OL/DL – Six offers including Middle Tennessee, Coastal Carolina and Ball State. Started in the Peachtree Ridge program. Family moved to Tennessee and now has moved back. Starting at LT tonight and will also play some DL.
Myles Abernathy – 6-4, 190, Senior WR – Five offers including Arkansas State, Alabama State and Eastern Kentucky. Helmerich says probably "best catch radius" of any player he's ever coached. Could see college programs bulk-him-up and make him flex TE. Stats: 33-473 yards receiving with 11 TD
Darnell Kelly – 6-2, 165, Sophomore QB – Four offers including Nichols State, Middle Tennessee State and Eastern Kentucky. Blossomed under OC Klay Koester. Helmerich: "Just starting to scratch the surface." Stats: 62% completion, averaging 226 YPG passing with 23 TD, 7 INT. Also rushed for 267 yards and 7 TD.
King Thomas – 5-9, 170, Sophomore WR – Offered by Eastern Kentucky, Middle Tennessee and Grambling. Getting attention as potential college CB. Stats: 42-379 yards receiving with 3 TD.
Lamar White – 5-10, 185, Senior WR – Offered by Erskine, Sewanee and UNC Pembroke. Son of former Atlanta Falcons legendary WR Roddy White. Helmerich: "It's in the blood. Has the strongest hands and will snatch it out of the air." Stats: 38-455 yards receiving with 5 TD.
Jalin Williams – 6-3, 240, Senior OL – Offered by Maryville and Erskine. Will start at RT.
A.J. Perry – 6-3, 165, Senior WR – Offered by Erskine and Maryville. Stats: 10-177 yards receiving with 3 TD.
Bryson Williams – 5-10, 185, Senior LB – Offered by Clarion. Bounced back from illness that caused him to lose 50 pounds last season. Stats: Leading tackler 56 TT, 11 TFL, 7 QBH.
Taysean Wilson – 5-11, 190, Senior LB – Offered by Erskine. Stats: 49 TT, 5 TFL.
Norcross Prospects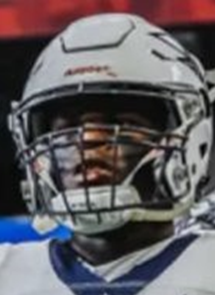 Caption
Jackson Bussey, Norcross
Credit: 247 Sports
Jackson Bussey – 6-4, 215, Senior – Committed to App State over 20 other offers including East Carolina – Highest Ranking: 247 Sports 3-Star Edge. Maloof: "Plays along the lines of (former Blue Devils star) Lorenzo Carter," who starred at Georgia and is now in his sixth NFL season and second with the Atlanta Falcons. Stats: 50 TT, 19 TFL, 3 QBS, 2 BK.
Cam Robinson – 6-0, 176, Senior Safety – Committed to Navy over 3 other offers including Buffalo. Stats: 46 TT, 8 PBU.
A.J. Watkins – 6-2, 182, Senior QB – Committed to Air Force and recently offered by Kennesaw State. Multi-faceted talent and probably best athlete on the field tonight. Can do almost anything on offense and the Blue Devils will use him that way tripling as QB, RB and WR (that's when Dillon Mohammed will step-in and play QB). Three-year starter. Stats: 49-88 passing for 55.9% completion percentage, 588 yards, 5 TD, 2 INT. Rushing 59-697 yards, 11.8 avg, 11 TD. Receiving: 17-196 yards, 1 TD.
Mike Ammons – 6-0, 200, Senior RB – Offered by TCU and Marshall. Suffered major knee injury in the spring and was just cleared by doctors to return to game action this past Monday. May see a few snaps tonight.
Carter Luckie – 6-6, 255, Sophomore DL – Offered by Georgia and Toledo. Brother of former Blue Devils star and current Georgia Bulldogs freshman TE Lawson Luckie who was one of the top prospects in the country in the 2023 class. Dad played for the Dawgs as did his two uncles, the Luckie Triplets who played for Georgia in the 90s. Upside is as immense as you would imagine. Uber-talented and destined to be one of the top recruits in the state. Playing DL right now but might also find his way to the offensive side of the ball before his career is done. Stats: 38 TT, 21 TFL.
Jamari Harrold – 6-4, 211, Junior WR – Offered by Toledo. Extremely talented in the line of 2022 Blue Devils star WR Nakai Poole (now at Mississippi State) and Zion Taylor (Georgia Tech). Coach Maloof believes "more and more offers" headed his way. Stats: 20-293 yards, 2 TD.
Antonio Molder – 5-8, 164, Senior Safety – Four offers including Eastern Illinois and Alabama State. Size is probably the only thing keeping Molder from playing anywhere in the country. Stats: 69 TT, 3 INT.
Jalil Abdullah – 6-2, 192, Senior LB – Offered by Morehouse. Having a big senior season. Son of former Clemson Tigers star Rahim Abdullah who was second round pick of the Cleveland Browns. Plays Will LB which Coach Maloof says is probably the most important position in their defense. Says he could see him putting on weight at the next level and moving to DE. Stats: 68 TT, 15 TFL, 3 FF.
Jaidyn Williams – 6-3, 373, Senior OL – Committed to Point University. Has battled some injury issues but should be back in the line-up tonight.
De'Mario Manning – 5-11, 175, Senior CB – Offered by Reinhardt and Georgia Military College. Park of the Blue Devils strong three-man CB rotation. Stats: 22 TT, 1 FF, 4 PBU.
Ethan LaPia – 6-3, 343, Senior OL – Offered by Rhodes College. Three-year starter.
So, join Wayne Gandy, Jon Nelson, Hannah Goodin and me for our Emmy Award-winning Football Fridays in Georgia Game of the Week as the Norcross Blue Devils host the Peachtree Ridge Lions starting at 7:30 p.m. Remember at halftime Hannah will highlight this week's Make That Kid an Offer nominees.
You can watch Football Fridays in Georgia in so many ways. You have traditional TV (GPB), online at GPB.org, GPB Sports app, Facebook, YouTube, Twitter, and Twitch.
Now if somehow, you miss it live or just want to watch it again, don't worry, we replay the entire Football Fridays in Georgia Game of the Week at 11:30 p.m. or you can watch it on demand anytime at GPB.org.
Enjoy your Football Friday in Georgia!