Restoring the Roar: Peachtree Ridge Finds a Way to Keep Winning | Georgia Public Broadcasting (gpb.org)
Happy days have returned to The Ridge! The Peachtree Ridge Lions have started the 2023 season 7-0 in just the second year of Matt Helmerich's tenure as head coach.
"I knew we had some talent," said Helmerich. "Just being able to put it together and see the kids get better every week. Going back to January, we were fighting them tooth and nail. We have to do it our way and this is how we're going to work out. This is how we are going to play multiple sports. They are 16-year-old kids and there was some push back. I think they see the benefits of those workouts and some of the events that we did. Things to build the camaraderie and a family. Now they are thankful that we did those things and built that bond. They are having a blast right now, which is pretty cool to watch."
After five seasons at nearby John's Creek, Helmerich made the move to Gwinnett County and to a school with a program that had been to Georgia high school football's pinnacle. The Lions had been to the championship game of the state's largest classification twice in their first six seasons of varsity football. Drew Butler, Cameron Hayward, Kevin Minter, Bradley Roby and Orlando Brown are Peachtree Ridge grads who have enjoyed careers in the NFL. The Ridge had solidified its place as one of the state's premier programs when the unthinkable happened. Some students from the school's feeder program ended up playing their high school football elsewhere. Restoring the pipeline became a top priority.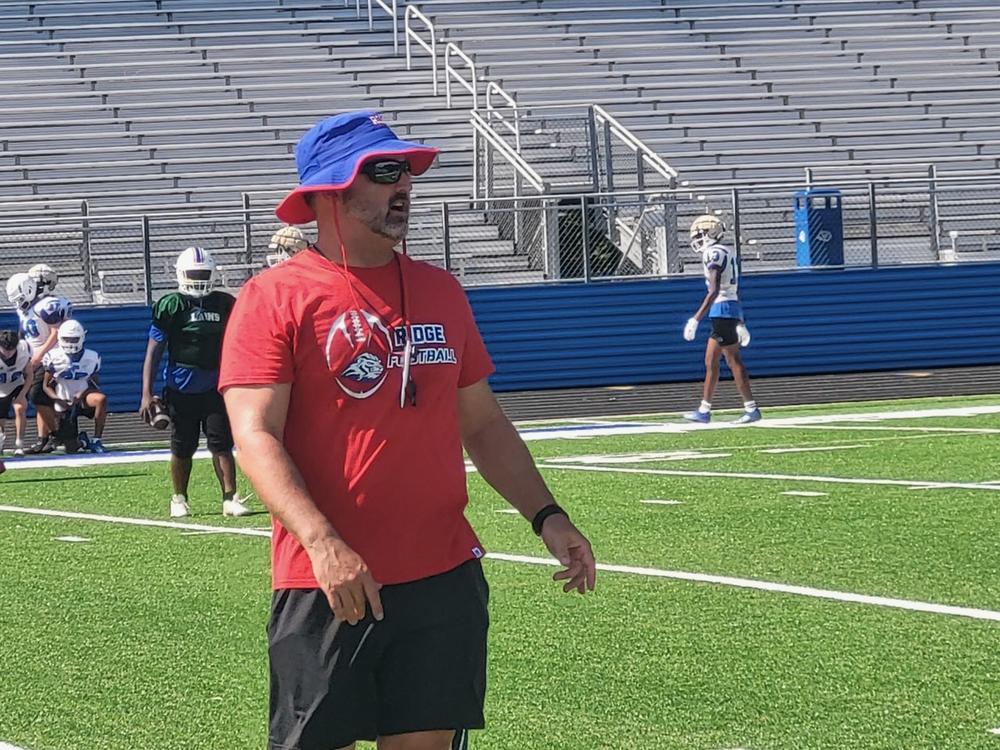 Caption
Second-year Peachtree Ridge coach Matt Helmerich has restored the Lions' roar.
Credit: Sam Crenshaw
"That was an area of concern and something that we focused on," recalls Helmerich. "Getting into middle school and making sure that we kept those kids and got them to come to Ridge. Our sophomore class, which was our first freshman class, is really good. We hit the hallways and found some talent. As a result, we have three kids starting for us this year who didn't play football before. One was more of a basketball kid. Our starting right tackle had never played before. Josh Brown, our starting safety, has some D1 offers. He is a baseball player who had not played football since he was 7."
The Lions posted a 6-5 mark last season that included a first-round playoff game. It was a positive start for Helmerich who seemed to convert some doubters heading into a busy off season.
"It felt like we were starting from ground zero," recalls Helmerich. "We did a lot of teaching. We went back to basics during the off season and even offered a Football 101 class. It laid a foundation. We had a good spring and had some success in the spring game against Kell."
Summer workouts went very well as the team participated in OTAs and 7-on-7 tournaments. The thing that Helmerich noticed most was players taking responsibility for the team's achievements. Leadership was emerging.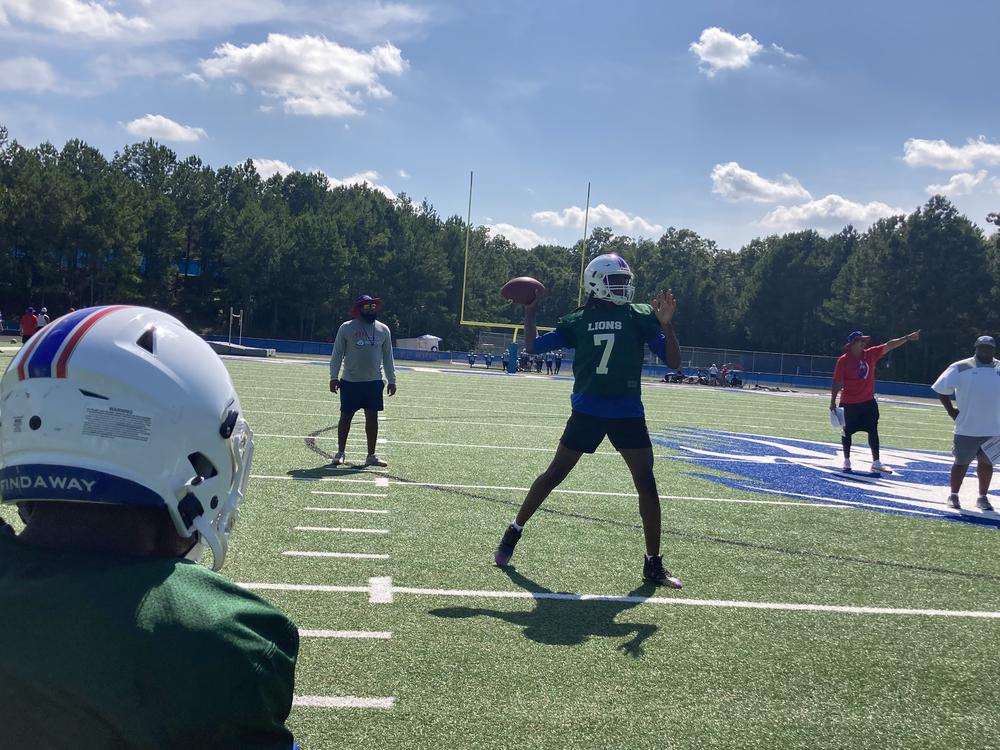 Caption
Sophomore quarterback Darnell Kelly has thrown for 1,566 yards and 20 touchdowns.
Credit: Sam Crenshaw
"Our best players are our quietest kids," says Helmerich. "We don't have a lot of loud leaders. We have a lot of lead-by-example guys, but they started to get on each other about being on time for practices, watching film, and doing things outside of the field house on their own. Our quarterback, Darnell Kelly, was hosting cookouts at his house and that was good to see. He was feeding his offensive line. Just to see the kids come together, has been really cool to watch."
As preseason practices started in early August, so did a rash of daily thunderstorms that limited or halted afternoon practices. It forced the team to do something different and character was revealed through adversity. If you look at the back of their helmets you will see their theme "Find A Way." That theme was put to the test.
"All of the Gwinnett teams were in the same boat," says Helmerich. "We even went at 5:15 in the morning sometimes. We went from 5:15 a.m. to 6:45 a.m. three times one week. It wasn't easy getting everybody there. Actually, that may have been a turning point for us, as 97 percent of the team was there for those morning practices. I know that last year that would not have happened. That's when I saw that the parents were committed, and the kids were committed. These guys wanted to be something special. "
They proved it by starting the season 6-0, something that had never happened before at Peachtree Ridge. The next game on the schedule would be a major test. The Lions last win over North Gwinnett came in 2016 and Helmerich has admired and respected the program that is now a neighboring rival.
"I moved up from Florida in 2017 and saw several games in North Gwinnett's state championship run, including that crazy Colquitt game where they had the walk off field goal," Helmerich said. "That was one of the best football games I've ever seen in my life. It was surreal, that atmosphere, that stadium, the support. They have been one of the gold standards in Georgia high school football, since I moved up here."
Last year's meeting didn't go so well, and North won it 35-7. This time, with back-to-back open weeks before facing the Bulldogs, the coaching staff used the extra time to add some wrinkles to the playbook. The game plan worked, even in adverse conditions.
"That rain was a little scary, knowing we are a bit more pass-oriented than run," says Helmerich. "I felt like our quarterback and receivers handled it well and we jumped out to a 20-0 lead. I'm a defensive guy and for two weeks I had been thinking about chasing (North Gwinnett) quarterback Ryan Hall around. He just makes so many plays with his legs. He's got a great arm and a great pocket presence."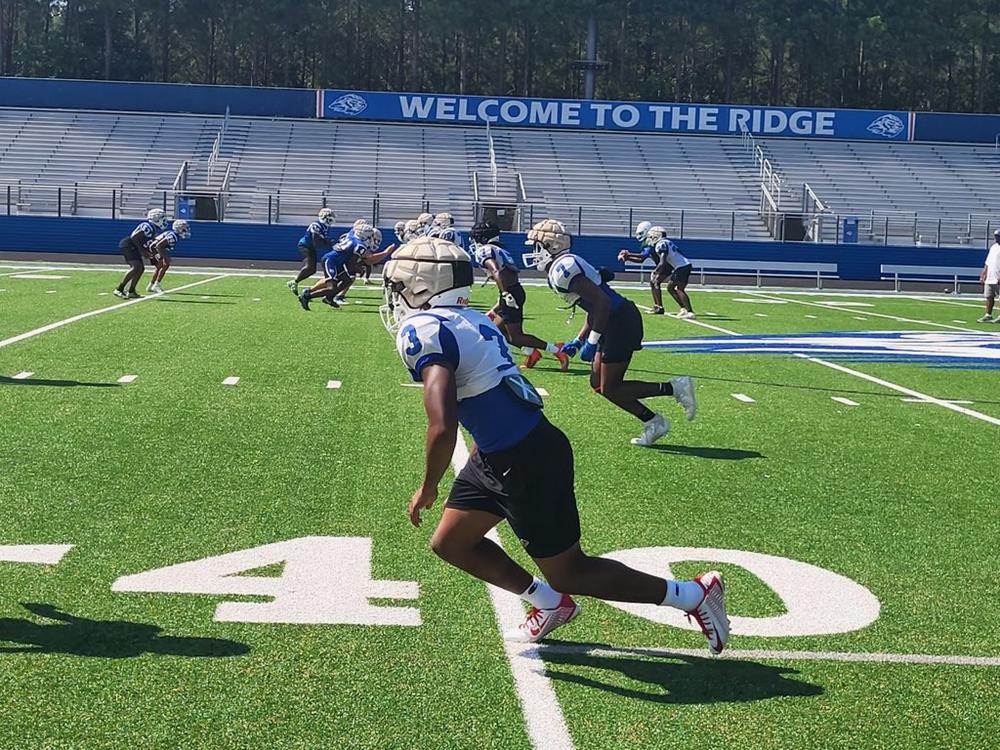 Caption
With the playing buying into to message, the Lions are back in the chase for a region title.
Credit: Sam Crenshaw
Helmerich said the team made some silly mistakes in the second and third quarters but were able to overcome those.
"Some silly penalties missed some tackles and missed a chance for a sack that allowed the quarterback to scramble and score," he says. "But we never let our foot off the gas and that was our message. We just played with a sense of urgency for 48 minutes. It's the first time we had done that in two years that I have been here."
In the end the scoreboard read Peachtree Ridge 27 North Gwinnett 17. Darnell Kelly completed 18 of 34 passes for 243 yards and three scores on a rainy night. Cornerback Dorian Barney had 7 tackles and an interception as the Lions remained unbeaten and now look ahead to this Friday's date with region rival Discovery. It was enough to warm the heart of a coach who got drenched by the rain while wearing a special device on his arm due to recent surgery.
"I tore my biceps tendon and had to have it reattached on Oct. 2," says Helmerich. "Friday night was my first night coaching with my bionic brace. I can't straighten it out. I have to keep it at 90 degrees for the next couple weeks. I think it calmed me down a little bit. Normally I'm running up and down the sidelines hooting and hollering, so I think it calmed me down last Friday night."